TechCrunch Disrupt 2021 approaches in just three days. Although the main show kicks off on Tuesday the 21st, some sneak peeks and extras will go down on Monday. Make sure to log in to Hopin by noon on Monday to catch it all, including a unique series of speed networking sessions, where one attendee from each session will be selected to receive a limited edition TechCrunch Disrupt swag bag. All sessions are in Pacific Standard Time. Here's your how-to guide for everything you can expect at Disrupt.

Monday, September 20 – Networking Sessions
12:30 pm – 1:00 pm PST: Peer to Peer: Investors:
Connect with the Disrupt community of

investors to share

connections, insights, and expertise.
1:00 pm – 1:30 pm PST: Peer to Peer:

Early Stage

Founders:


Meet the founders also launching at Disrupt to share insights and grow your support network

1:30 pm – 2:00 pm PST: The Full-Stack:
Meet the data analysts, engineers, hackers, data scientists, and software developers that power your tech.
2:00 pm – 2:30 pm PST: BIPOC & Women of Disrupt:


We invite all women and BIPOC (and all allies) attending Disrupt to join us for this roundup to inspire one another and grow your network.

2:30 pm – 3:00 pm PST: B2B2Connect:
Are you working on products that make it easier for

businesses to thrive? Meet

and share ideas with the SaaS and Enterprise community.
3:00 pm – 3:30 pm PST: DNA/Tech


:

Meet the scientists using technology and engineering to produce advancements in health and biology. 

3:30 pm – 4:00 pm PST: Planet/Impact:


Passionate about making an impact on our planet? Join this networking session focused on sustainability, Greentech, and cleantech projects.    

4:00 pm – 4:30 pm PST: MoneyMatters:


Network with the power brokers changing the face of financial services, banking, and crypto. 

4:30 pm – 5:00 pm PST: Actuator:
Discover the builders automating our lives with robotics and hardware alongside the scientists creating the artificial intelligence that powers it all.
5:00 pm – 5:30 pm PST: The Station:


Share insights with people

pushing the boundaries of mobility, including drone technology, autonomous vehicles, and transportation.
The Stages
There are two main stages at Disrupt – the Disrupt and Extra Crunch stages. The Disrupt Stage features interviews and panels with the biggest names in tech, plus Startup Battlefield. The Extra Crunch stage is chock full of how-to lessons specifically for founders. The full schedule is here.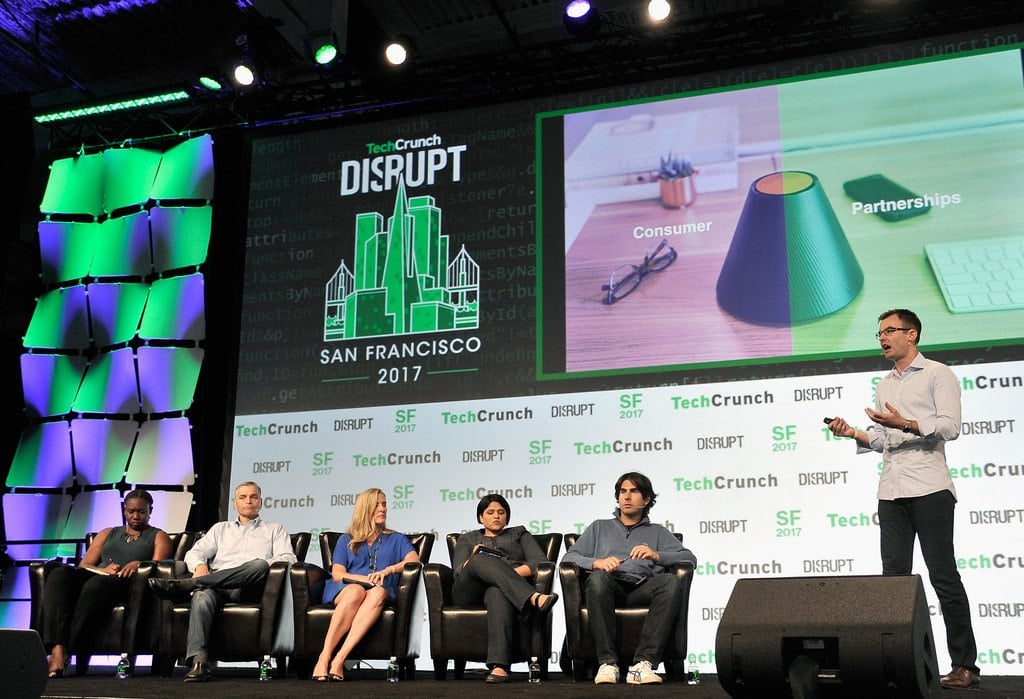 Breakout Sessions
Beyond the main stages at Disrupt, you can take in smaller, interactive gatherings that pack a lot of advice, insight, and value — with plenty of time to get answers to your pressing questions. Plus, you need an Expo Pass to attend these sessions. Are you missing your access? Grab an Expo Pass free here until Monday. All sessions are in Pacific Standard Time. 
Tuesday
9:00 am – 9:50 am: Revolutionizing the Global Metaverse Economy with Vin

9:00 am – 9:50 am: The $49B Developer Landscape with Dell

10:00 am – 10:30 am: You Complete Me with Mambu

11:00 am – 11:30 am: Saving Lives with Precision Biology, Mayfield

11:00 am – 11:30 am: The Dark Matter of Workflows:

Business Technology's Big

Opportunity with Wrike
11:35 am – 11:55 am: Taking Care of the Next Generation with Mayfield
12:00 pm – 12:50 pm: Powering What's Next: Insights from the Enterprise Software Market with Vista Equity Partners
1:00 pm – 1:50 pm: Demo Derby – How startups are disrupting the status quo with innovative

data analytics

, AI, and modern app development with Google Cloud

2:00 pm – 2:50 pm: Thrive with an Untethered Workforce with Velocity Global